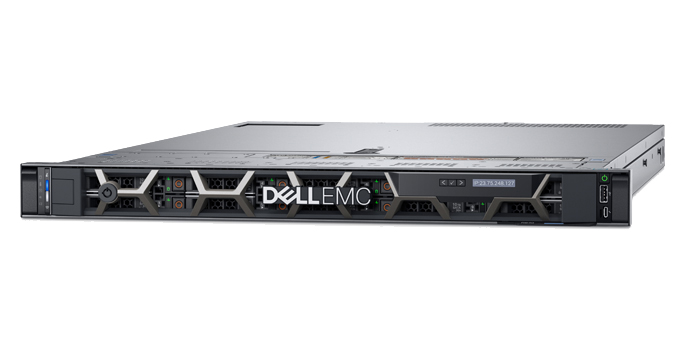 Dell PowerEdge R640 Rack Server
SKU: ASA-Dell-PowerEdge-R640
Overview:
Dell PowerEdge R640
is a highly configurable and versatile 1U rack server designed for a wide range of workloads in data centers and other high-performance computing environments. It delivers outstanding performance, reliability, and scalability for demanding applications, such as virtualization, databases, and high-performance computing.
Design and Specifications:
The Dell PowerEdge R640 server features a sleek and modern design with a compact 1U form factor that saves space in data centers. It measures 1.68 inches in height, 17.1 inches in width, and 27.75 inches in depth, and weighs approximately 29.5 pounds. It is powered by up to two Intel Xeon Scalable processors, each with up to 28 cores, and supports up to 3TB of DDR4 memory in 24 DIMM slots. It also features up to 10 NVMe drives, 8 SAS/SATA drives, or a combination of both.
Performance and Scalability:
The Dell R640 server delivers exceptional performance and scalability for demanding applications. It supports up to 12Gb/s SAS and up to 32Gbps NVMe drives for high-speed data transfer, and supports up to three PCIe Gen 3 slots for expansion. It also features advanced cooling and power supply technologies that help reduce energy consumption and operating costs.
Management and Security:
This server is equipped with advanced management and security features that help IT administrators monitor and manage the server infrastructure more effectively. It includes the integrated Dell Remote Access Controller (iDRAC), which allows remote management and monitoring of the server, as well as support for various operating systems and virtualization platforms, such as VMware, Microsoft, and Red Hat.
In terms of security, it includes several advanced features, such as secure boot, BIOS recovery, and system lockdown mode, which help protect the server from unauthorized access and ensure the integrity of the system.
---
NEXT STEP
Review & improve your system configuration
Select the quantity and add to cart
Buy selected configuration or get a quotation (download pdf)
*Configuration prices are subject to change because of market condition