ASA Computers and Stromasys Partner to Provide Legacy Server Emulation Solutions
10th January 2019
11:19 AM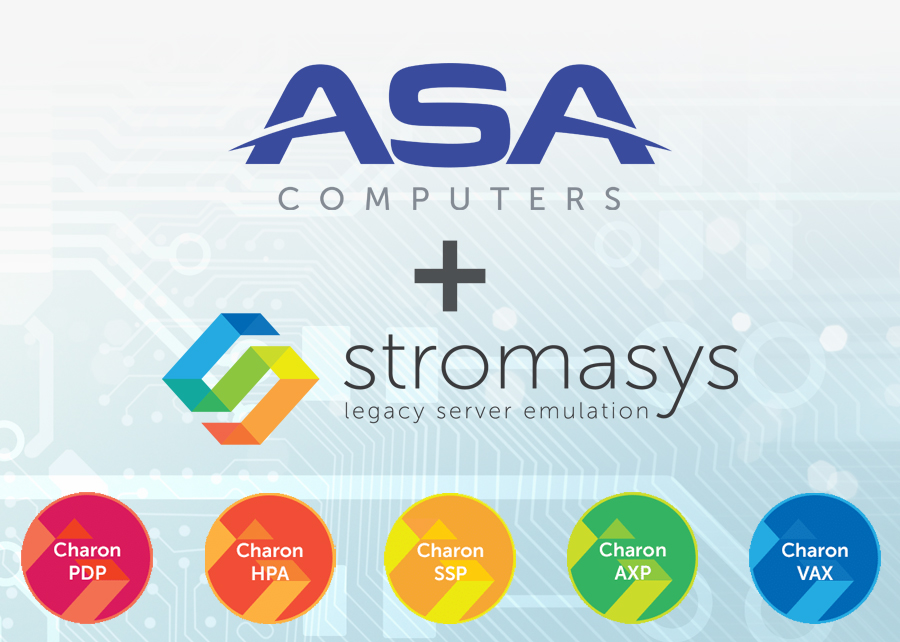 New Partnership Expands Innovative Technology Offering to Expand Technology Offerings.
Raleigh, NC & Fremont, CA, January 10, 2019 — Stromasys, the world's leading provider of enterprise-level cross-platform legacy server emulation solutions announced they signed an agreement with ASA Computers Inc, a pacesetter in enterprise hyper-converged infrastructure for on-prem or cloud IT environments. The agreement enables ASA to resell Stromasys' family of Charon products, the first technology to emulate legacy SPARC, Alpha, PDP-11, VAX, HP 3000, and HP 9000 systems. ASA now offers Charon hypervisors as a complementary component in datacenter architectures to enable a broad range of new legacy application capabilities such as additional levels of security, performance, data storage and cost efficiency.
The latest release of Stromasys' server virtualization products are now available in the cloud - thus, enabling the accelerated deployment and simplified management of enterprise applications; and the running of data centers in the most environmentally-sustainable and efficient manner, while lowering operational costs.
"The agreement enables ASA customers to capitalize on the latest advancements in server emulation technology within hybrid cloud environments and reduce both cost and power consumption in the combined technology solutions," said John Prot, CEO of Stromasys. "Additionally, Stromasys' commitment to helping our clients realize cutting edge technology arrays for cost effective legacy application migration makes ASA a logical choice. With our emulation solutions, integrated with ASA solutions, customers can yield faster time to results and world-class performance to meet mission-critical needs."
"Digital transformation is driving the need for IT teams to move quicker than ever before," said Arvind Bhargava, CEO of ASA Computers. "With the integration of Charon, ASA is bringing together the leading legacy server emulation solution as an option under our datacenter and cloud offerings to help customers quickly and easily modernize, simplify and harmonize IT operations. As enterprises modernize, they can rest assured that ASA provides a custom, managed solution that addresses the complex and unique constraints specific to their requirements."
As an Authorized Solution Partner of Stromasys, ASA Computers will extend the life cycle of business and mission-critical systems through virtualization, modernization, and system enhancement" said Robert Chen, Vice President of Sales, ASA Computers.
More information can be found on the Stromasys' partner site: www.stromasys.com/partners/
About Stromasys
Stromasys is a pioneer in enterprise-class cross-platform legacy server emulation solutions, providing modern infrastructure for legacy applications. Our virtualized environments include:
Founded in 1998 and headquartered in Geneva, Switzerland with USA HQ in Raleigh, NC and sales, engineering, and research & development offices located around the world, Stromasys has implemented thousands of cross-platform virtualization solutions in over 70 countries to help organizations lower costs, protect their investments, improve performance, reduce risk, and provide easier maintenance. To find out more visit www.stromasys.com
About ASA Computers Inc
Founded in 1989 and headquartered in Fremont, California, ASA Computers Inc. has been the leader in IT server products, computing and networking since 1989. We pride ourselves in providing superior server design at competitive costs. ASA Computers offers a wide variety of engineering capabilities and has delivered products for the Datacenter industry that include rack mounted servers, fully rack integrated large systems and industrial computing systems. Learn more at www.asacomputers.com.
ASA Computers is Proud to Integrate Intel Xeon Scalable Platforms and Solutions into their Design Practice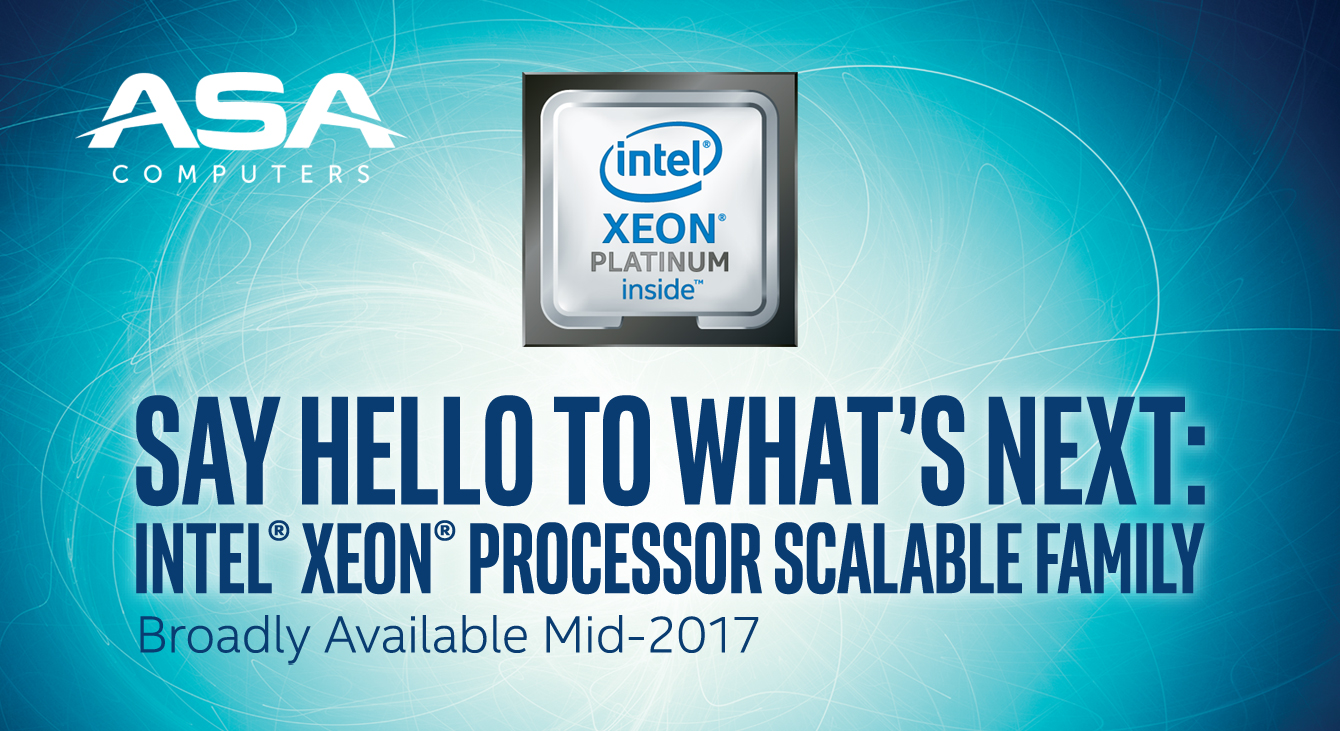 Here at ASA/Racklive, we are excited to announce our incorporation of Intel Xeon Scalable family platforms into our design portfolio. We believe that advancements in the Xeon Scalable lineup will significantly enhance our capabilities to tailor "winning" solutions in lockstep with our business philosophy and key design tenets.
One might ask, what is this "philosophy"? How could introduction of a new CPU or platform alone merit mention when discussing the "what and why" of our overall professional livelihood? To take a step back here and provide some context, I will retrace the avenue that led me into this discussion.
Here at ASA/Racklive, I am proud to serve this family of companies as CTO. In this role, my days span a sometimes-confusing melange of technical, interpersonal and business-related functions. Among these functions, in my "marketing role", I was recently tasked with composition of a press release to announce our "new Xeon Scalable platform lineup".
Perhaps here, I should be excited to have the opportunity to announce a new class of soon to sell ASAXYZ-123 servers to revolutionize our portfolio. Here, I am not doing this. Likely, to the chagrin of many in our company, I am refusing to announce this new accomplishment. Why am I neglecting this significant opportunity to illustrate our "new" server to you?
I refuse because this "server" does not exist.
Here, my team did not produce a new server to proffer or applaud. We did not cycle through PCB release after release, identifying issues and optimizing signaling. We did not shoot these PCB's with X-Ray beams. We did not bake them or their surrounding systems in room sized ovens. We did not shake them violently, or drop them repeatedly at varying angles from differing heights.
Did others do these and numerous additional things to produce polished and distinctive solutions?
I am happy to say that they have. Here too, I will happily say that my team has been honored to test, review and provide input to some of these "others". I know I will be happy and sometimes surprised with the accomplishments that the designers of these system boards and server platforms have realized.
To those of you I already know, good job. To others, good job too. My team is looking forward to the opportunity to assess, review and build solutions in lockstep with you.
Does this mean that my team relies totally on the accomplishments of others? Do I imply that we contribute nothing of circumstance to amplify the capabilities of our clientele? Am I saying that we do not care about Xeon Scalable or lack awareness of the capabilities this offering will unearth. Are we relegated to "just plug in" what others have done?
Of course not. All of that would be silly.
Here, I can say that what we "do", has a distinctively positive impact on the offerings of the clientele we serve. What are our "real" offerings? Here, I'll start with "you". You here, pointing. You have interacted with "our" solutions today. You have driven a stream of electrons across and through stacks of systems not long ago being composed only yards to my right or left or rear. Here, I can hear "new" such systems purring in their place, awaiting the opportunity to serve to you. Did this stream of electrons I describe fly through one of the well more than one hundred billion daily tailored advertising transactions taking place on "our" designs? Instead, perhaps you download or uploaded or contributed to an open source project using an online SCM growing as we speak on another such solution? Were you among the 100 million monthly visitors to watch a replay, play, or catch up on the news through one valued client? Were you among the 500 million who uploaded, download or shared a picture or a document via another? Here, we are. Intel is and has been here too.
Now, back to the beginning, what do we do? What are the tenets that underpin our philosophy and guide our accomplishments? How does Intel Xeon Scalable fit into this discussion?
Perhaps here it would be sensible to use differing terminology to describe our team. We are craftsmen. We don't grow the trees. We do not mill our saw blades or hammer heads. We don't oxidize and polymerize phenols to produce our cans of shiny coatings. Instead, we build on our experience to identify the best "raw materials" available. We listen to our clients. We shape and reshape, selecting the best elements, defining and refining requirements. Here, we compose and "craft" these elements to produce tailored custom solutions. The philosophy that guides us, our tenets?
Agility: First, be flexible, be willing to adapt. Enable change.
For my team, this means being "broad by design". By choice we cultivate a portfolio of elements across many who manufacture servers and their accouterments. By intent, we adapt our manufacturing model to account for regular "fine-tuning" and design iteration, giving our clients the flexibility to adapt rapidly as they grow.
Intel Xeon Scalable is in lockstep with this tenet. Among the key accomplishments here is convergence on a single physical socket (Socket P / LGA – 3647) for 2 CPU through 8 CPU configurations. This simplifies our supply chain while unveiling new opportunities for design scalability using common elements.
Scalability: Second Growing Fast and going wide... everywhere! Going fast, faster...! Bigger, growing up and up and away!
Intel Xeon Scalable brings more advancements in this category than I can mention. Among those I am most excited to see worked into our rack level designs are elements which fundamentally challenge the very definition of "a server" platform. New architectural models and options available (Omni-Path and Rack-Scale Architecture) and new technologies (Optane, Altera, Nervana) will have us building broader, higher performing and potentially broader designs that will not only enhance and improve or designs, but likely will contribute to their evolution into a "new species" of platform.
Value: Often tedious, always careful. Balanced everything - price, performance, power utilization.
With the denoted convergence on a single socket for 2-8 way configurations, wide breadth in core count, clock speed, and power demands and a plenitude of "advanced" features bringing improvements in stability, security and speed, my team will have new options to refine and adjust designs to build finely tuned solutions.
Finally, "how can introduction of a new CPU merit mention when discussing our philosophy?" I'd ask instead, now that you have read, how can it not?" We are proud to integrate Intel Xeon Scalable platforms and solutions into our design practice. I can't wait to see what my team will build.
I really really cannot wait to see what our clients will do!
ASA Computers Inc. Receives Intel HPC Data Center Specialist Status
11th November 2016
04:35 PM
Press Release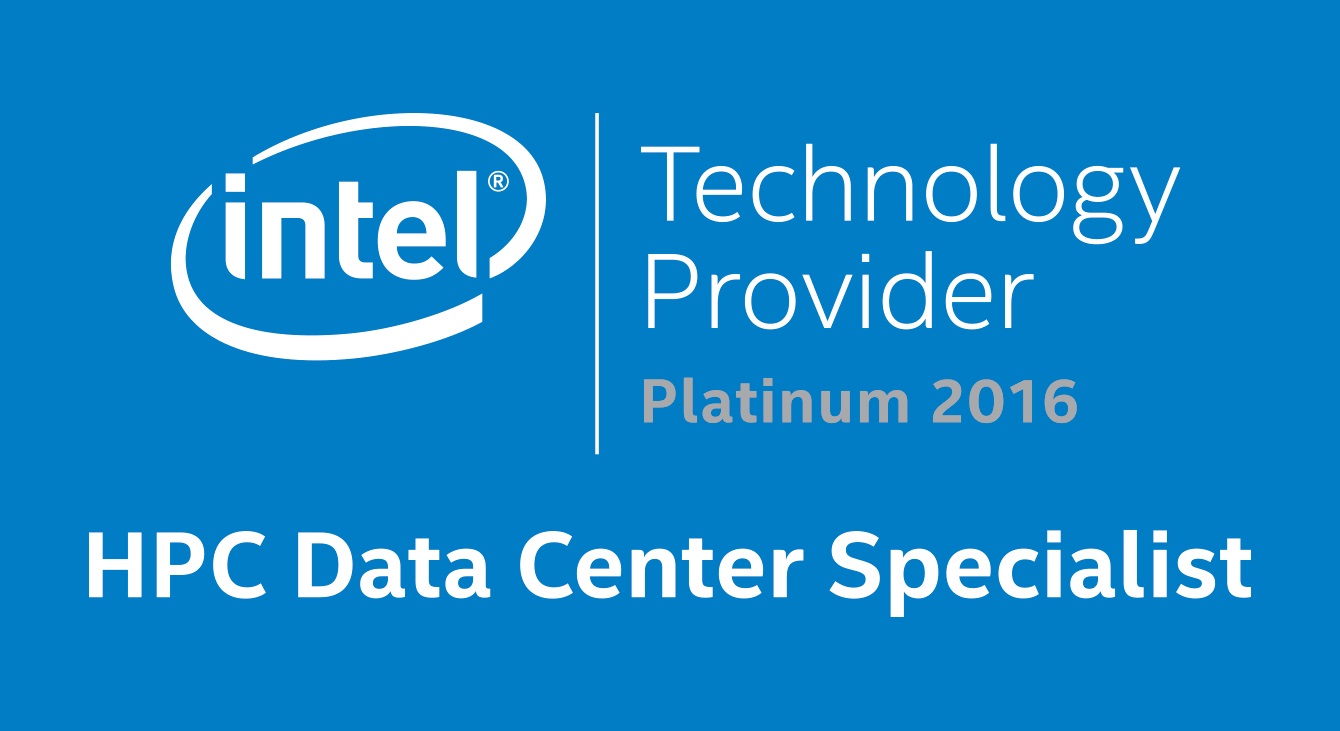 ASA Computers Inc. announces official recognition as an Intel® technology provider and HPC data center specialist.
FREMONT, CA - 11/11/2016 — ASA Computers Inc is delighted to announce it has been officially recognized as an Intel® technology provider and high-performance computing (HPC) data center specialist. The official recognition confirms ASA's position as a company of excellence that has demonstrated a strong and high-caliber commitment to deploying Intel-based HPC solutions.
"We have been an industry leader in HPC solutions for over a decade now," says founder and CEO Arvind Bhargava. "We are proud to have our abilities and our contribution in deploying Intel-based HPC solutions recognized in this way and delighted to bring our high-performance computer designs into the modern data center."
ASA Computers Inc. is also a platinum partner of the Intel technology provider program, entitling the company to significant benefits, and giving it the ability to stay up to date with the latest technology while retaining its competitive edge. ASA has been the leader in server products, computing and networking since 1989, providing superior server design at competitive costs. ASA works closely with Intel to develop solutions that expedite innovation and produce groundbreaking results in the areas of voluminous data, visualization and computing-intensive applications. The company offers a variety of configurations that can address diverse workload, performance, and efficiency requisites.
"Our servers help individuals, companies and organizations to provide more efficient work with a higher ROI for products and services," says Arvind. "ASA Computers Inc. has met challenges with ingenuity and produced clever solutions that reduce costs, decrease time-to-market, and deliver consistent quality."
Founded in 1989, ASA Computers is based in Fremont, California and is privately held. For more information, please visit www.asacomputers.com
on Twitter (@asacomputers)
on LinkedIn (@asacomputers)
on Facebook (@asacomputers)