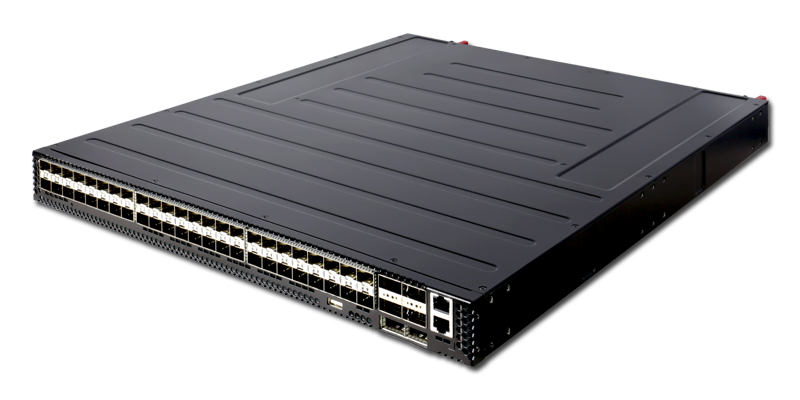 Edgecore AS7312-54XS 48-port 25GbE SFP28 + 6 port 100GbE QSFP28 switch port-to-power airflow
SKU: 7312-54XS-O-AC-F-US
48-Port 25GbE SFP28 + 6 port 100GbE QSFP28 switch, ONIE software installer, Broadcom BCM Tomahawk with Intel Atom CPU, dual AC PSUs, port-to-power airflow, N. America power cord

---
Overview
"The Edgecore AS7312-54XS switch is a Top-of-Rack (TOR) or spine switch for high-performance data centers. In a compact 1RU form factor, the switch provides line-rate L2 and L3 switching across the 48 x 25GbE SFP28 with 6 x 100GbE QSFP28, supporting up to 48 x 10/25 GbE, 6 x 40/100 GbE connections. The AS7312-54XS can be deployed as a TOR switch supporting 10/25 GbE to servers with 40/100 GbE uplinks, or as a spine switch supporting 40/100 GbE spine interconnects. This open network switch is loaded with the Open Network Install Environment (ONIE) which supports the installation of compatible Network Operating System software, including the open source options Open Network Linux and OpenSwitch, plus commercial NOS offerings."
Specs
"Redundant Power Supply , Redundant Fans"
Compatible Software Option
"Cumulus Networks - Cumulus Linux , Pica8 - PicOS , Open Compute Project - Open Network Linux"
"Cost-effective, bare-metal switch infrastructure for data center fabric."
"Deploy as Top-of-Rack switch supporting 10 or 25 GbE to servers, with 40 or 100 GbE uplinks."
"Deploy as spine switch supporting 10, 25, 40, or 100 GbE ToR and spine interconnects."
"48 x 25G SFP28 plus 6 x 100G QSFP28 ports, each SFP28 supporting 1 x 10 or 25 GbE and each QSFP28 supporting 1 x 100G or 1 x 40G."
Layer 2 or Layer 3 forwarding of 1.8 Tbps.
Supports hot/cold aisle with port-to-power and power-to-port airûow SKUs.
All ports on front; PSUs and fans accessible from rear.
"Hot-swappable, load-sharing, redundant AC or -48V DC or 12V DC PSUs."
"5+1 redundant, hot-swappable fan modules."
Energy Efûciency: 310 W typical power consumption without pluggable optics.
Bare-Metal hardware switch pre-loaded with diagnostics software and with Open Network Install Environment (ONIE) for automated loading of compatible open source and commerical NOS offerings.
"Compatible with Open Network Linux (ONL), the open-source, OCP reference NOS."
Compatible with Cumulus ®  Linux ®  r3.6 and later version.
Compatible with PicOS"! from Pica8 Inc