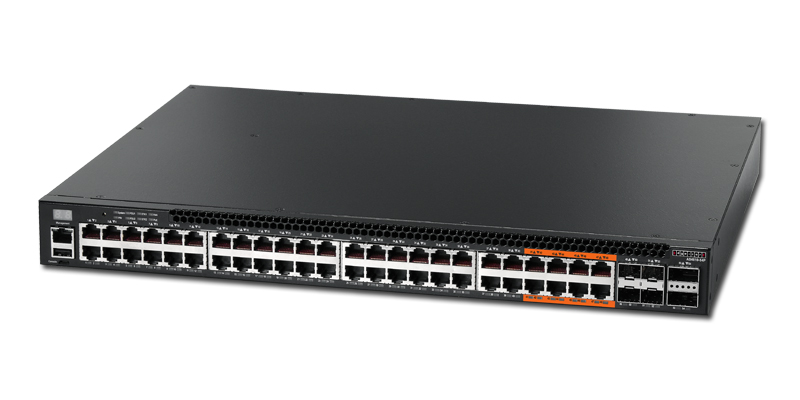 Edgecore AS4610-54P 48 port 10/100/1000Base-T switch with 48 PoE+ ports 1-8 port-to-power airflow
SKU: 4610-54P-O-AC-F-US
48 port 10/100/1000Base-T Switch with 48 PoE+ ports 1-8 port support up to 60W Ultra POE, 4 10G SFP+ and 2 20G QSFP uplink slots, Dual AC PSUs, Helix4 Chipset, 920W PSU X 2 installed, ONIE Installer, port-to-power airflow, US power cord

---
Overview
"The Edgecore AS4610 series is a high-performance Gigabit Ethernet Layer 3 switch family featuring 30 or 54 ports; AS4610-30T and AS4610-54T with 24/48 10/100/1000BASE-T ports, 4 x 10G SFP+ uplink ports, and 2 x 20G QSFP+ stacking ports(Stacking capability subject to NOS implementations); AS4610-30P and AS4610-54P with 24/48 10/100/1000BASE-T ports, 4 x 10G SFP+ uplink ports, 2 x 20G QSFP+ stacking ports, plus the 24/48 10/100/1000BASE-T ports fully support IEEE 802.3at and IEEE 802.3af Power-over-Ethernet (PoE)."
"The AS4610-54T is ideal as a data center top-of-rack switch or IPMI (Intelligent Platform Management Interface) switch, it includes a fan-less design, redundant hot-swappable AC PSUs, and port-to-power airflow. The AS4610-30T, AS4610-30P, and AS4610-54P are ideal for campus networking, with the AS4610-30P and AS4610-54P able to provide up to 30 Watts of power per port to attached devices (eight ports support UPoE up to 60W per port), such as VoIP phones, wireless access points, surveillance cameras etc, fully utilizing existing Cat. 5 cable infrastructure."
Specs
"Redundant Power Supply , Stacking"
Compatible Software Option
"Cumulus Networks - Cumulus Linux , Pica8 - PicOS , SnapRoute - FlexSwitch , Open Compute Project - Open Network Linux"
"Cost-effective, bare-metal infrastructure for data center racks."
"1 GbE connections to server and storage nodes in rack, with 10 GbE uplinks to spine network."
"PoE models ideal for enterprise, hospitality, warehouse applications interconnecting security, camera, WiFi devices."
24/48 x 10/100/1000BASE-T RJ-45 ports.
"4 x SFP+ uplink ports, supporting 10 GbE (DAC, 10GBASE-SR/LR/ER/LRM) or 1 GbE (1000BASE-T/SX/LX)."
Full line-rate L2 or L3 forwarding and switching.
Energy efficiency: Maximum 99.1 W system power consumption excluding PoE power consumption.
"Hot-swappable, load-sharing, redundant AC PSUs."
Hardware switch pre-loaded with Open Network Install Environment (ONIE) for automated loading of compatible open source and commerical NOS offerings.
Compatible with Cumulus® Linux® r2.5.4 and later version from Cumulus Networks®. (AS4610-54T and AS4610-54P only)
All AS4610 models are compatible with PicOS"! r2.6.2 and later version from Pica8 Inc.