Introduction
Vembu is a leading provider of a portfolio of software products and cloud services to small and medium businesses for more than a decade. Vembu's vision is to make software and cloud services very affordable for the hundreds of thousands of small and medium businesses worldwide. Vembu's flagship offering is the BDR Suite of products meant for on-premise, offsite, cloud backup and disaster recovery across diverse IT environments including physical, virtual, applications and endpoints.

A Single, Comprehensive and Secure Backup & Recovery Solution
to address the various needs of your IT environment, thus ensuring Business Continuity at affordable pricing
Vembu VMBackup
Vembu VMBackup is built to backup the Virtual machines running in VMware and Hyper-V environment. It integrates seamlessly with your virtualized environment to give you the best backup experience and a hassle-free restoration.
Agentless VMware and Hyper-V backups
Quick VM Recovery
Cross Hypervisor Migration (V2V)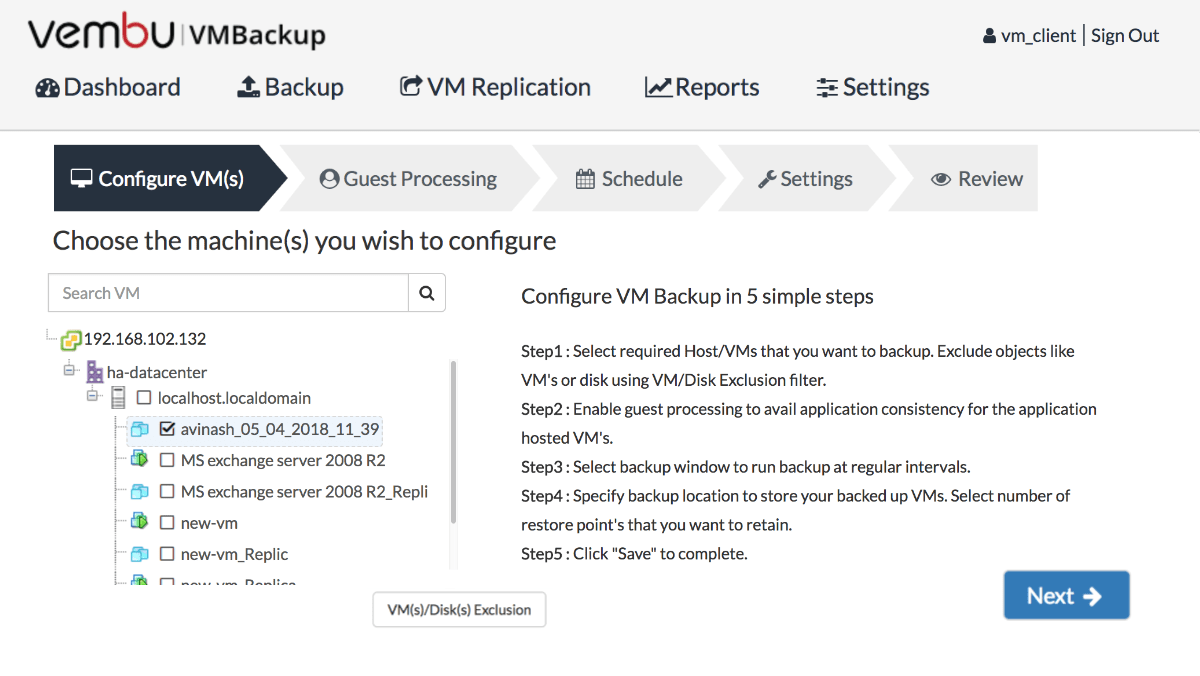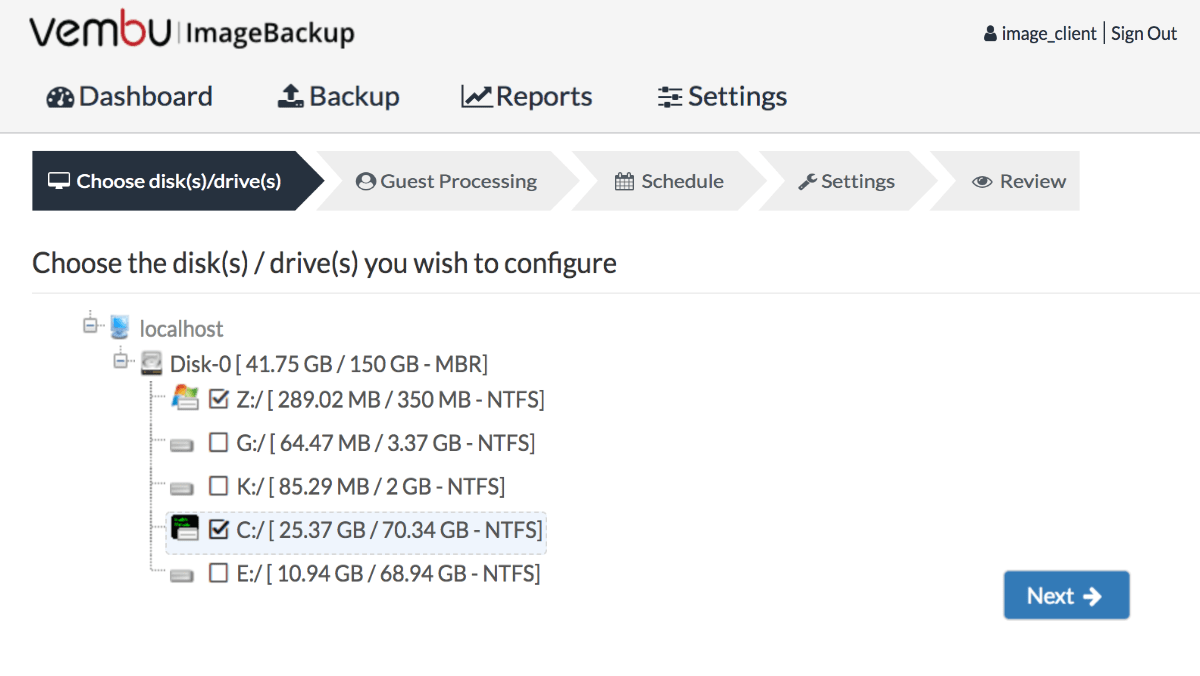 Vembu ImageBackup
Vembu ImageBackup helps protect your physical Windows machines by providing disk image based backup of physical Windows Servers and Endpoints. IT administrators can restore their Windows systems from scratch using Bare Metal Recovery(BMR). Additionally, the following features ensure a smooth and easy backup configuration.
Changed Block Trackings
Automatic Backup Verification
Cross Platform Migration(P2V)
Vembu NetworkBackup
Designed for file-level and application-level backup, organizations can protect their business critical files, folders, databases, and applications with Vembu NetworkBackup. It enables you to restore the critical files and applications with ease in times of disaster. It also provides a hybrid backup solution – on-premise with optional cloud storage for Servers, Endpoints and applications like MS Exchange, MS SharePoint, MS Active Directory, MS Outlook and SQL Server.
Flexible retention policies
Seed migration
Hybrid cloud deployment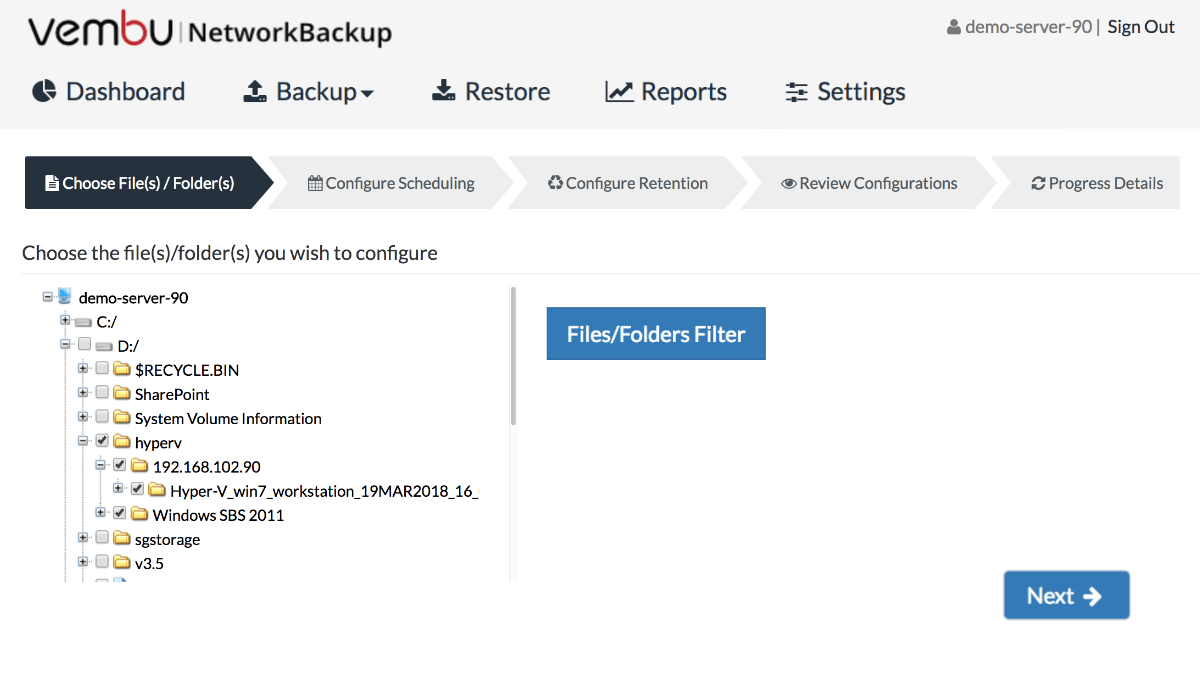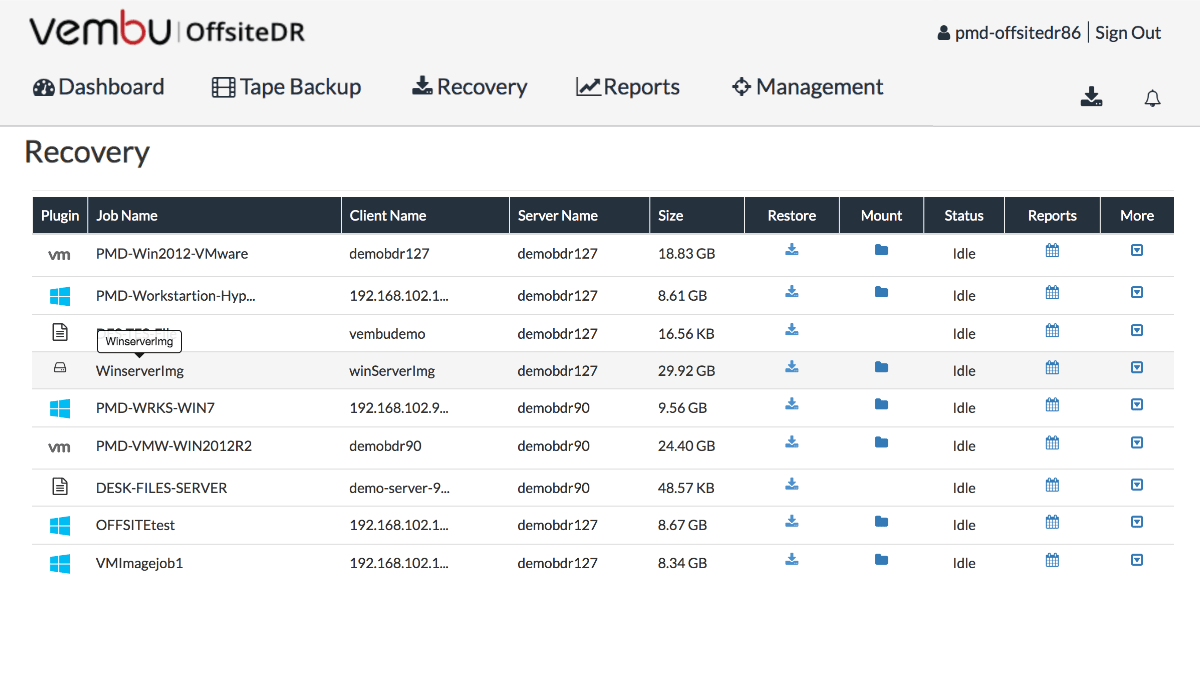 Vembu OffsiteDR
Businesses need not worry about how safe their data is on the primary server. Ensure double protection to your critical data with Vembu OffsiteDR, which allows you to replicate your data to an offsite location. It helps in reducing the business downtime and enable more availability at the time of disaster.
Live replication to an offsite server
Bandwidth throttling
WAN optimization
Vembu CloudDR
When the client machines are lost, they can be recovered using the backup server. But when the backup server is also lost, business continuity takes a hit. Vembu CloudDR makes your disaster recovery plan more reliable even if the on-premise data is lost.
Set up a hybrid cloud deployment where you can replicate an additional backup copy to Vembu Cloud
Backup your data to the nearest Vembu Cloud Server
Your data is encrypted during transit and at-rest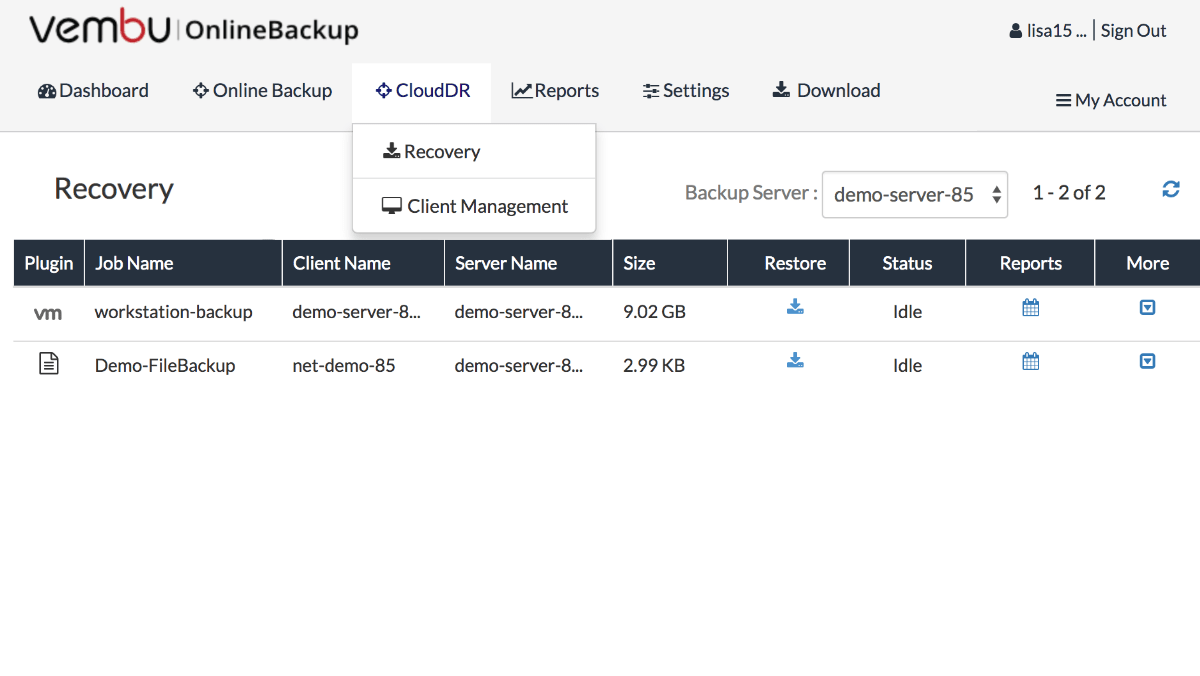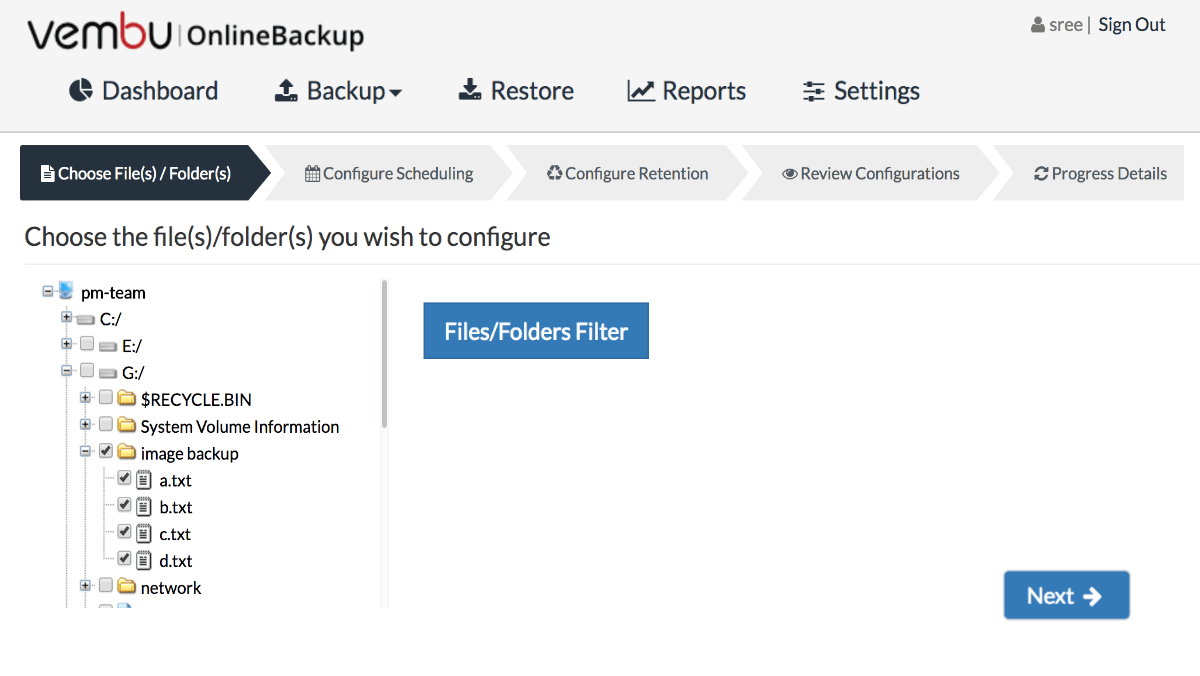 Vembu OnlineBackup
Setting up an expensive and sophisticated IT environment as a backup server is not the only way to avoid data loss. There is a simpler way. Protect your critical files and applications by backing up directly to Vembu Cloud using Vembu OnlineBackup.
Backup Files and Applications
Secured data transfer – Where It Left Off
Restore data anytime and anywhere
Vembu SaaSBackup
As SaaS applications have become vital for most of the Small and Medium Businesses, there is an imminent need for data protection. All it takes is one accidental deletion or a trojan attack to make your data irrecoverable. Vembu SaaSBackup helps you overcome these data threats.
Built for Microsoft Office365 and G- Suite
Backup emails, calendar, contacts and drive
Restore the user data or email to the same or different user account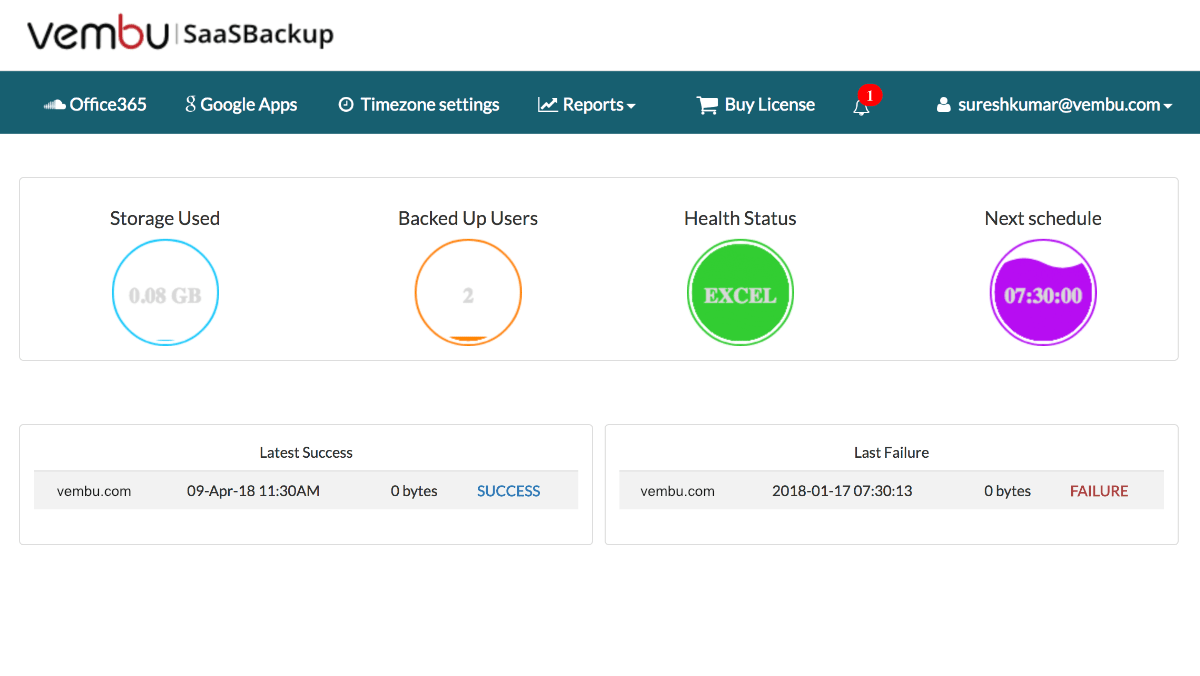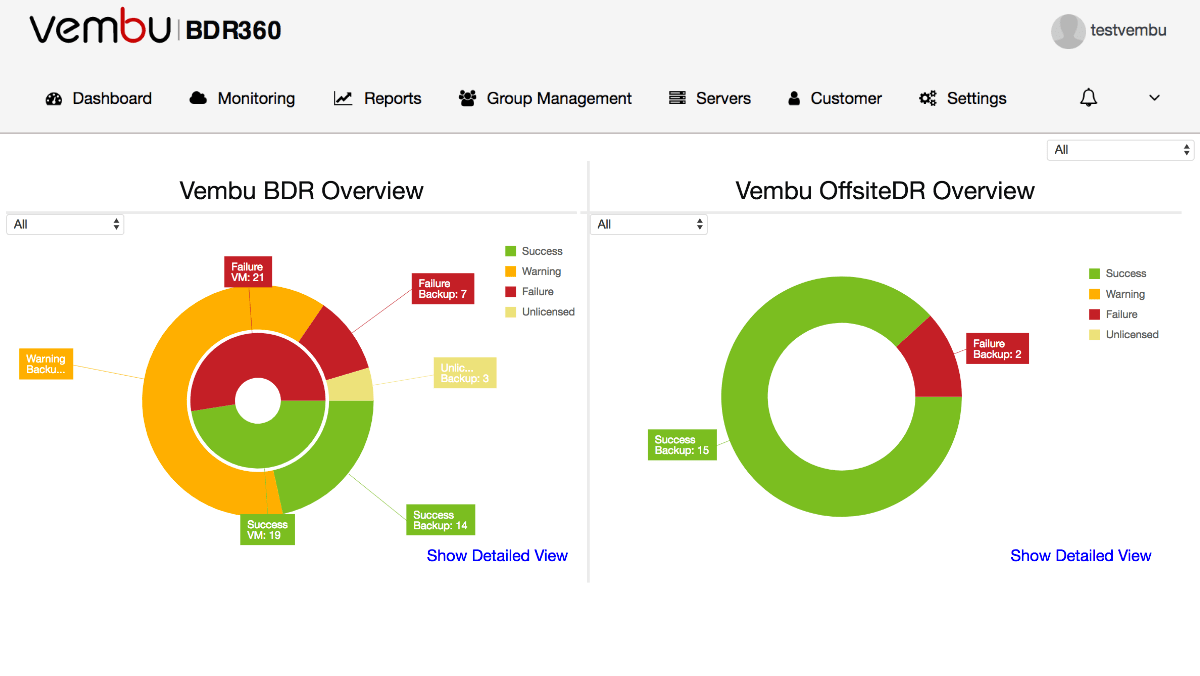 Vembu BDR360
Your data protection policy should not end with taking backups. It must ensure you have control over the process across every backup job. Get end-to-end visibility and control of your backup jobs using Vembu BDR360.
Monitor and Manage all the backups from a centralized portal
Group your different backup environments or clients and get collective reports & alerts for the group
Verify your backups with screenshots of the booted machine