Cybersecurity Consulting
If you're ready to transform your cybersecurity posture, ASA Computers can help you plan, build, and manage an integrated and proactive strategy that will protect, detect, prioritize, respond, address, and control security breaches. The team of highly experienced professionals has successfully implemented security solutions for organizations of all sizes, including education, healthcare, and state and federal government.
Our consultants can help you with one or all of the following aspects of your security framework:
Cloud identity and access
Identity access management
Security and awareness training
Forget viruses – Today's threats come in new shapes and are called Malware
Ransomware
Threat of the year since 2012. Attackers enter your PC through unpatched software and encrypt all your files. Can you afford to pay a $600 ransom to get your data back?
Bots/Backdoors
They turn your PC into a remote controlled zombie. Your computing power is collectively sold on the black market to send spams, attack others or store illegal content.
Banking Trojans
Hackers use phishing techniques and keyloggers to get your most valuable passwords and empty your bank- or PayPal-accounts invisibly within seconds.
PUPs
Potentially Unwanted Programs that mess up your computer with useless browser toolbars, tons of commercials and other bulk that slows down the PC.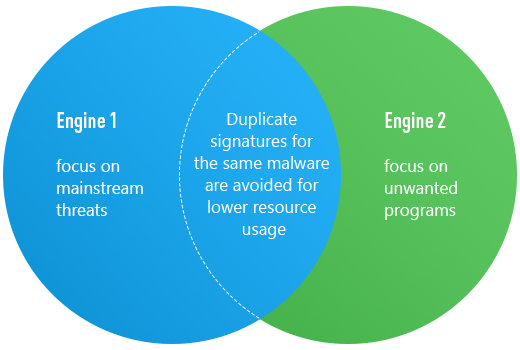 2 in 1: Emsisoft's high performance dual-engine scanner
How does it scan faster with two scanners than most others with just one?
Emsisoft Business Security not only detects more because it uses the full power of two major antivirus- and anti-malware technologies, it also scans quicker because of the efficient combination of the scanners.
Any unnecessary duplicates in detection are avoided, enabling the least impact on memory and overall hardware resources.
4 proven protection layers to block online threats on all levels
Stops Ransomware. Before it encrypts your files.
Emsisoft's Anti-Ransomware protection layer is custom-built to detect behavioral patterns of ransomware attacks and stop them before your files can be encrypted. Other anti-ransomware solutions rely on detection of repeated encryption, so your most valuable files may already be lost before they act.
Optional: Add protection for your Windows Server with Emsisoft Enterprise Security
This upgrade enables installation on Windows Server operating systems and provides optimized protection for unattended servers.
Operate without user login
Emsisoft Enterprise Security is not dependent on a logged in user to protect your data. The real-time protection begins to operate right from boot time.
Monitor connected storage devices
Any new devices that connect to your server are automatically covered by real-time protection. No action required.
Email notifications
Get instant email notification whenever a malicious file is detected, to allow for instantaneous response and further investigation.
Integrate with mail servers
The included Emsisoft Commandline Scanner is known to be one of the most sophisticated and flexible command line interfaces around, providing top performance with frequent scans.
Monitor file shares
File servers that are heavily risk-exposed are carefully monitored by real-time protection.
Save your server's hardware resources
Your server's hardware power belongs to your business, not to your antivirus. Emsisoft Enterprise Security is very light on resource requirements.