Introduction
RAIDIX is a innovative solution provider and developer of high-performance storage systems. The company's strategic value builds on patented erasure coding methods and innovative technology designed by the in-house research lab. Their solutions are optimized for data-rich industries where system stable performance is crucial for client workflow.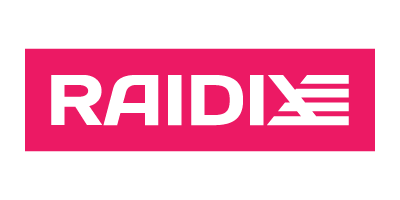 RAIDIX 4.X
RAIDIX 4.X is the software designed to deploy high performance block and file storage systems. It provides single or dual controllers architecture empowering all advantages of industry standard hardware.
MORE INFO →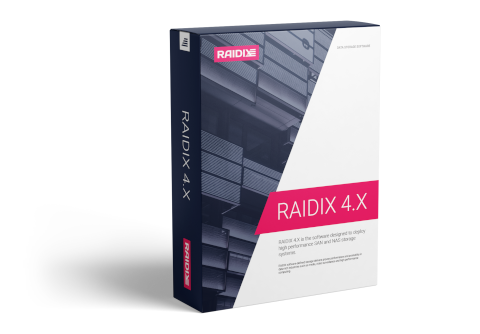 Product Features
Proprietary RAID Engine
Checksum processing within RAID engine is based on vectoring calculations using SSE4.2 and AVX Intel's extensions.
Adaptive Read-Ahead
Read-ahead tool recognizes sequential data blocks from plenty of concurrent threads and proactively puts them into the cache to increase system performance.
Advanced Reconstruction
With fast checksum calculation Advanced Reconstruction ignores the slowest data drives in order to increase overall RAID performance.
Partial Reconstruction
Partial Reconstruction identifies and reconstructs only that data blocks, which were changed when drive was unplugged.
Silent Data Corruption Protection
System detects and fixes corrupted data based on checksum analysis during routine drive operations without causing performance degradation.
Remote Replication
Provides disaster recovery and additional data protection by creating data copies in remote storage system.
Non-Volatile Memory NVDIMM
Write-back cache is placed inside non-volatile memory NVDIMM to prevent data loss in case of power interruption.
SSD-Cache
The technology employs SSD space as hot data buffer in order to improve total system performance. RAIDIX 4.X has two modes of SSD cache: cache for reading, cache for reading and writing.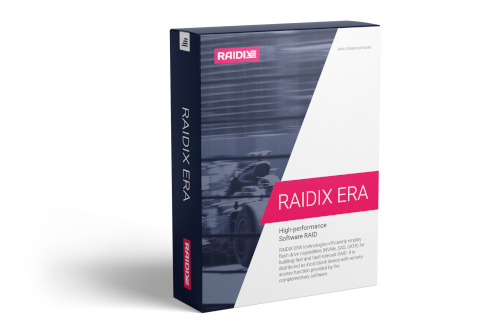 RAIDIX ERA
High-performance software RAID specially designed for flash drives and new types of storage interconnect. It is a software module for building high performance RAID with flash devices (NVMe, SAS, SATA).
MORE INFO →
WHAT IS RAIDIX ERA
RAIDIX ERA is a software RAID presented by Linux kernel module and management utility (CLI).
Agentless VMware and Hyper-V backups
Quick VM Recovery
Cross Hypervisor Migration (V2V)
NVMe drives are in average 3500 times more productive than standard HDD. Existing software and hardware solutions for leveraging NVMe devices significantly restrain their performance potential. Employing them, storage subsystem delivers only 35-50% speed out of hardware maximum.
We have designed advanced software technology to leverage productive work with NVMe that enables to utilize more than 95% of hardware performance capabilities. Such results comes from high I/O handling parallelization and lockless datapath.
This technology is embodied in RAIDIX ERA software.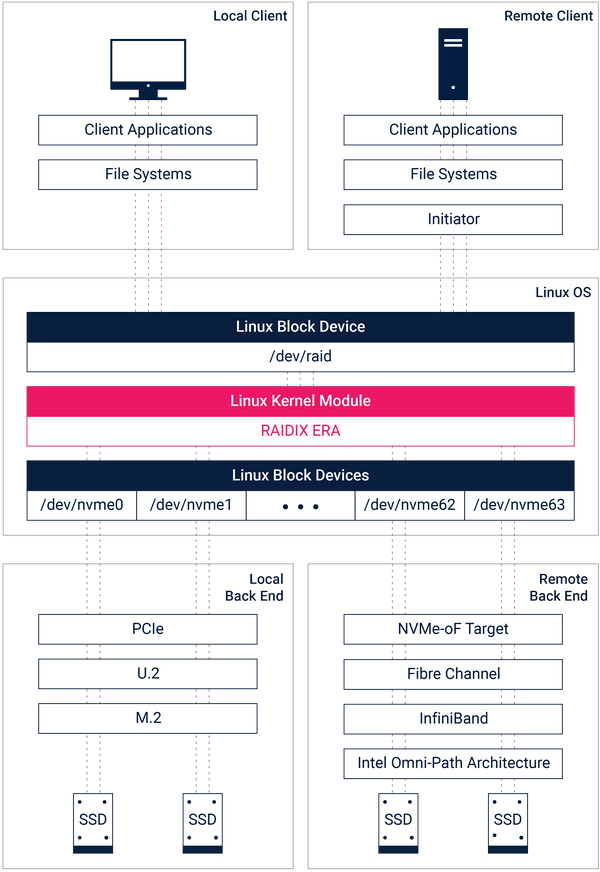 PRODUCT BENEFITS
High Performance
35 GB/s and 5 500 000 IOps
Latency less 100 us
No performance penalty in mixed I/O workloads
Low performance penalty in degraded mode
Usability and compatibility
Wide range of RAID levels (including RAID 7.3)
Works with local and remote drives
Clients get array as a block device
POSIX API support: no needs to adjust apps and file systems
Lightweight
Less 20% CPU usage under maximum array loading
Minimum RAM utilization: less 4 GiB for full-featured work