Introduction
ASA Computers is now a partner of Middle Canyon to offer a high-density GPU Server Solution to the market.

Middle Canyon designs, develops and represents embedded computing solutions. We enhance our partner's offerings with fully-integrated, flexible systems. Our engineering team works with our partners and customers to create custom solutions. Our vast knowledge of the world of embedded technologies, enables us to deliver complete application solutions using the highest quality industry standard products.

Klondike2020™ Platform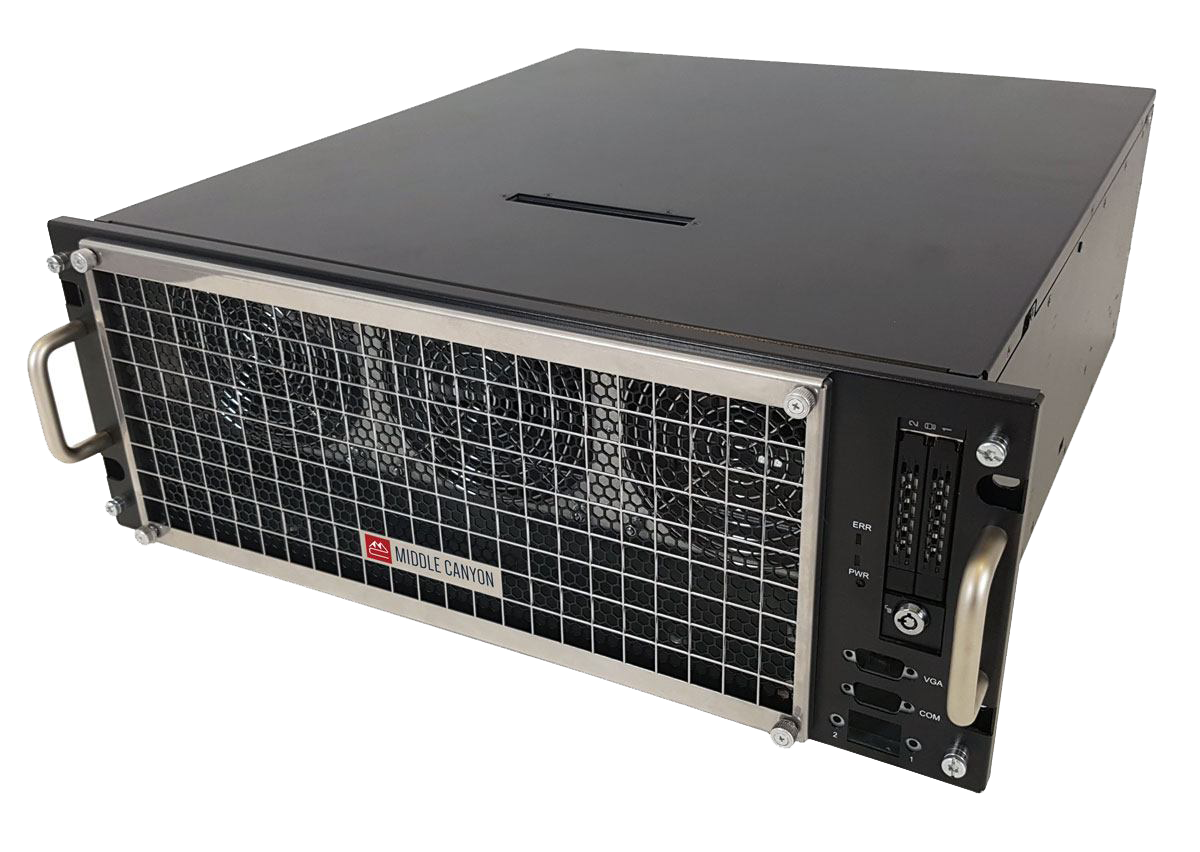 The Middle Canyon Klondike2020™ 20 Slot PCIe Chassis features the highest density, smallest footprint in the world today. The Klondike2020 is especially useful in the fields of Deep Learning, Artificial Intelligence and storage applications. It is tailored to deliver speedy results for high workloads generated by Big Data and Analytics, Control & Signal Processing, and Cyber Security. Middle Canyon harnesses our deep industry knowledge to develop products that best suit our customer's extreme needs.
This platform suits Afloat, Airborne, Expeditionary and Commercial/Data center applications. Its SWaP architecture makes for most efficient use of space. The system memory can be configured as memory, storage or both. Comes fully configured for your application, or you can build up your own platforms. With the Klondike2020, there is no need to buy expansion PCIe chassis or servers; you get it all in one small, powerful package.
MARKETS
Government
Healthcare
Deep Learning
Artificial Intelligence
Five Pillars
Memory Density
Processing Efficiency
Scalability
SWaP Reduction
Cost Savings
20 PCIe Slots
Gen 3 x 16 lanes
Network Adapters
Up to 700TB NVMe Storage in 4U
GPUs
FPGA / DSP
Variable configurations
Specifications
General
GPUs
20 single slot GPUs, NVMe storage & I/O cards or 10 dual slot GPUs*
CPU
Dual Intel Skylake Xeon® Silver 4019T 2.0 - 3.0GHz or Gold 5120T 2.2 - 3.2GHz
Maximum Power Requirements
4x 2,000 watt N+1 hot swap power supplies, 8,000 watts total
System Memory
from 64G DDR4 to 24TBs of DDR4 type NVMe flash
Storage
2 x 2.5" SSD space
Network
Dual 10 GbE, 4 IB EDR, Infiniband / 100G with added I/O Ethernet card
Software
Windows or Linux
System Dimensions
20" D x 17.5" W x 4U H [508mm D x 444mm W x 131mm H]
Operating Temperature Range
50° - 95°F [10 - 35 °C]
* Extra power is supplied from the backplane via 8 or 6 pin short cable. Each slot has its own external power.
Applications
Deep Learning
Neural Networks in Finance
Image Recognition
Predicting Vulnerability Exploitation
Artificial Intelligence
Cybersecurity Defense
Health Care Benefits
Accounting And Fintech
Storage
NVMe
Blending NVMe with GPUs
Best flash utilization
Video Image Processing
Process data streams like video, speech, image faster
Leverage advanced object recognition technologies to locate threats faster, safer, and more accurately i.e. for self-driving cars and interactive robots
Cyber / Security
Detect anomalous behavior in network traffic to identify vulnerabilities
Analyze data-in-motion and at rest can help find new associations or uncover patterns and facts
Analyze internet, smart devices, and social media data to prevent criminal threats
Disrupt planned cyber and criminal activities
Cryptocurrencies
High power cryptocurrency mining
Blockchain management
Speech Recognition
GPU-accelerated deep learning recognizes words as well as people do
Reduced language model training times
Radar Signal Processing
Calculate over 400K glints per second
Finance
Correlate impact of economic trends and hedge funds related to portfolios
Campaign and conversion analysis
Analyze critical markets and evaluate credit worthiness
Oil and Gas
Manage, visualize and optimize exploration and production operations
Determine drilling and completion of wells
Predictive and reduce down-hole failures
Transportation
Real-time management of traffic patterns and congestion
Live monitoring of railroad conditions
Optimize long-haul trucking routes and load capacities
Healthcare
Analyze clinical trials, cross-trials, and drug compliance
Identify patient populations that could benefit from predictive outreach
Identify disease risk
Telco
Correlate call records with server performance data to spot problems in real-time and build ad targeting profiles
Analyze intra-day billing
Manufacturing
Leverage live streaming analytics on component functionality to ensure safety, avoid failures and validate warranty claims
Monitor real-time data feeds from laboratory and production-line machinery to identify catastrophic events and generate notification
Predict maintenance and monitor conditions
Retail
Analyze historical sales to determine geographic product demand for future inventory and store locations
Manage real-time supply chain for replenishment and inventory management
Manage ad-tech, geospatial tagging and customer preference recommendations
Ad Tech
Assess inventory availability
Optimize campaign management and conversion
Analyze campaign performance