Introduction
CST Data specializing in the creation, preservation and distribution of your digital assets. It is a privately owned document management company located in Charlotte, NC. With more than 18 years of document imaging experience, they have developed an efficient, consistent system that guarantees your project will be delivered on time, on budget, and in a user-friendly format that will save your company time and money. More than 80 percent of their dedicated team has been with CST for nine years or more, so you can feel confident they have the expertise to get the job done right.

Create
Save time and money with digital documents.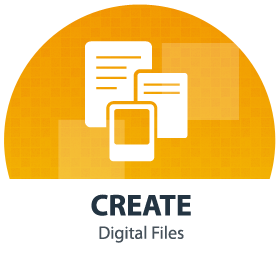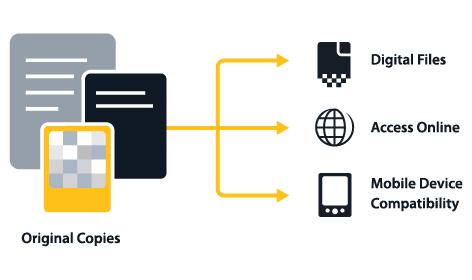 CST Data offers document scanning services, which is the process of converting your paper documents into digital replicas. The electronic files are stored on your company's computer network or on a web-based image repository. They're fully searchable, so your employees spend less time searching through countless files for a single document, and they require no physical storage space. Did you know that it costs you $20 in labor to file a document, $120 in labor to find a misfiled document and $220 in labor to reproduce a lost document? In a business climate where organizations are constantly searching for ways to cut costs and increase productivity, digital files provide a dramatic impact to your bottom line.
Scanning Services
CST Data offers several options for converting your corporate files into digital:
Scanning your documents for you.
Providing you with the hardware, software and training to allow you to do it yourself.
Scanning your existing documents, then setting you up to scan your documents going forward.
Convert microfilm or microfiche into electronic images
Hardware Products include Kodak, Canon, Panasonic and Fujitsu Scanners and Topaz Electronic Signature Pads.
Software Products include Digitech Systems PaperFlow, QC Flow, OCR Flow, the complete PaperVision Capture Suite and Artsyl DocAlpha and Simple Capture.
Forms Creation Services
We can create electronic versions of paper forms for use on a tablet PC, iPad, DROID device, or other tablet operating system devices.
Products include Mi-Forms electronic forms software.
We sell, service and lease Lenovo, Motion, Equus and Fujitsu Tablet PCs and Anoto Digital Pens.
We offer in-house form design services.
We also offer designer software sales and training, so you can design forms yourself
Preserve
Information for today, and for tomorrow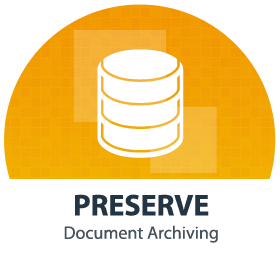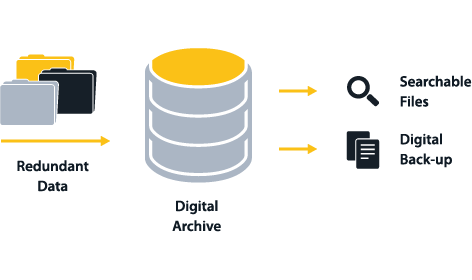 Your document archive represents knowledge your organization has spent years acquiring. Only about a quarter of your data is newly created the rest is "redundant data," data that was created in the past and must be retained for use in the future. It's critical that you store and adequately protect this priceless information, and digital archiving is the most efficient and safest way to do that. With digital archiving, you can retain old information for future use, meet your increasing data storage needs without using physical space, and live up to your industry's compliance and legislation requirements.
CST Data archives your documents and makes them fully searchable, so the information you need is always at your fingertips. We also create a data backup to ensure that your documents are protected for years to come, even in case of a disaster.
Keeping your data safe
CST ensures that your data is always there when you need it with hard copy disc media backups at your location, as well as in a fireproof vault at CST Data's location. CST also maintains additional backups with two redundant RAID 5 servers and on multiple off-site hard drives in a secure location. CST also stores all of your papers after scanning until you're sure you're satisfied with your digital files.
Storage And Retrieval Options
To maximize your flexibility, CST offers several options for data storage and retrieval.
On Premises: A server/license-based system utilizing customer or CST-supplied server, and concurrent licenses of Digitech Systems PaperVision Enterprise.
Products include software licenses of PaperVision® Enterprise document management software.
CST Data-manufactured Retrieval Storage Appliance (starting at 8TB, RAID 5 server appliance).
On Demand: hosted system easily accessed by a web browser (SaaS).
Products include Digitech System's award-winning image repository, Image Silo, for secure, compliant storage of even the most confidential documents. This option allows simultaneous access by unlimited users.
Your current ECM/EMR or Legacy System: CST can prepare, scan and index your files for import into any existing system you use as long as it has the capability for importing and viewing scanned images.
Distribute
We make it easy to share your knowledge.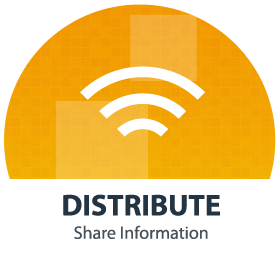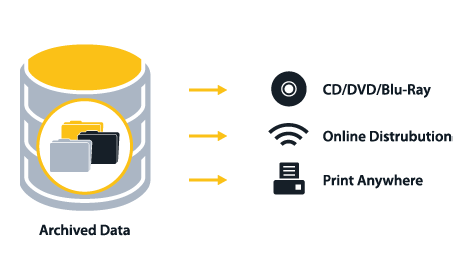 Your digital archive makes it easy for your employees to find the information they need, but the benefits of electronic files go beyond internal use. CST Data makes it easy for you to share your information outside your organization as well. With digital files, there's no need for endless photocopying or printing stacks of paper to mail. Now, sending your information is as simple as creating an encrypted disc, sending an e-mail, or granting secure access to information to authorized users by a password-protected document grant.
Distribution Services - Disc Media
Using the Rimage disc publishing system, you can efficiently and securely distribute any corporate asset on an encrypted CD, DVD or Blu-Ray.
CST Data is an authorized VAR for Rimage, providing system sales, service, leasing and application consulting.
Submitting digital assets to the Rimage System is as easy as sending them to a network printer. It can distribute large volumes of digital information on archival quality media with a 100-year written warranty on the media and the direct-to-disc printed label.
Distribution Services - Online
PaperVision® Enterprise and Image Silo have built in e-mail capabilities that allow you to distribute documents right from your e-mail application.
PaperVision® Enterprise and Image Silo have built in document grant features allowing authorized 3rd party users password-protected access to your document repository. They can only access what you allow, and sophisticated audit trail functionality tracks their use.