Introduction
ARMA Instruments AG, an acronym to Advanced Relay Mission Applications was founded early 2017 in Baar, Switzerland. We operate a transparency center that invites all our customers to come and investigate our source code. We are open to third party auditing. ARMA Instruments mission is to protect our users to the best of ability technology has to offer and to relentlessly monitor and improve on those technologies.

ARMA G1 Secure Communicator
G1 Secure Communicator
A mobile personal communicator based on the ARMA Linux operating system, using the cellular network. Build on a zero trust approach from hard- en software to manufacturing within our secure facility. ARMA G1 features an absolute minimalistic hardware design to exclude any type of attack and facilitates communication by text only. Can be made operable for communication inside bunkers, onboard ships and airplanes, it has our patented Dynamic Identity, does not rely on a dedicated server infrastructure and matches national TOP SECRET classifications.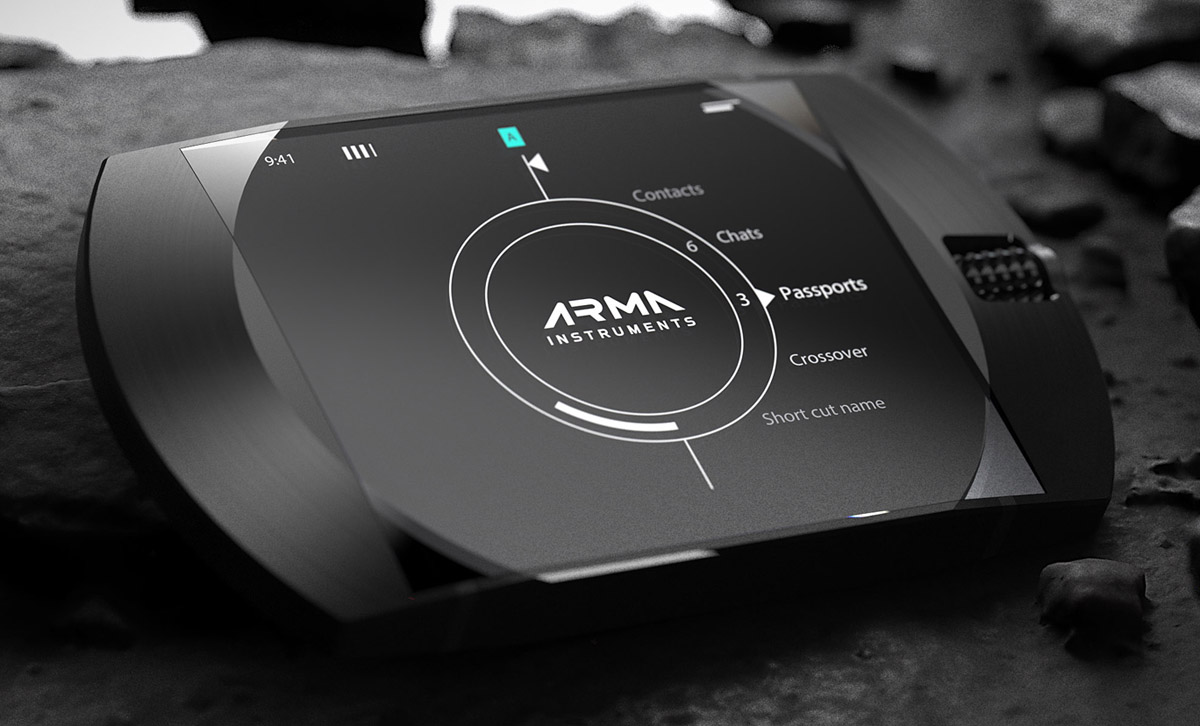 Product Features
Dynamic Identity
Dynamic Identity is a mayor improvement in the field of secure communications. Where currently users are easily trackable and identifiable, our ARMA G1 communicator continuously changes its identity, both on the device as well as on the mobile network level. We are the first company introducing this technology and Dynamic Identity is filed for patent under US patent number 16/433,768.
Serverless Infrastructure
Serverless Infrastructure is the first commercially available solution using onion routing for mobile communication that anonymises the user's routing, metadata, identity, location and makes storing user communication data technically impossible, for anyone. It provides an immensely resilient infrastructure against any form of attack. Bringing our communications down would in effect be bringing down the internet that was built to survive nuclear war.
Controlled ecosystem
ARMA is both developer and manufacturer of its products, excluding supply chain attacks.
Isolated cellular modem
Modem is isolated from the device's main computing core and has no direct memory access.
Controlled execution environment
Trusted boot and firmware updates and cryptographic verification of the boot image integrity.
Isolated cellular modem
Modem is isolated from the device's main computing core and has no direct memory access.
Microservice architecture
Individual software components are isolated using operating system containers and are run on a "need to know basis".
Microservice architecture
Individual software components are isolated using operating system containers and are run on a "need to know basis".
Passports
Multiple identities are possible on a single device being totally independent.
Zero inbox
We promote a zero inbox principle to be able to conveniently use the device. By default all communicated information is set to expire soon and typically there is no message archive on the device.
Self destruct
All critical hardware components are protected in a tamper resistant enclosure. If the integrity of the device is compromised, all encryption keys are irrecoverably erased.
TEMPEST resistant
Both passive and active measures are in place to ensure the blocking of electromagnetic emissions that otherwise would leak sensitive information.
G1 Specification
General specifications
Operating system
Linux based ARMA OS
Dimensions length X width X height (mm) - 115 X 72 X 9
Battery capacity (mAh)
4000
Tactical rotary encoder
Isolated from the main case using magnetics
Composition
Stainless steel and advanced ceramics
Dust and water
resistant - Rated IP67 (maximum depth of 1 meter up to 30 minutes) under IEC standard 60529
Hardware specifications
Main circuit board
ARMA Instruments proprietary Processor - Arm iMX7
Baseband processor
U-blox Swiss Modem
Display
AMOLED 3.81 (inches) 1020X1200 pixels
Connectivity
Unlimited global roaming
ARMA Instruments specifically has no insight into the ARMA G1's geographical location nor the amount of data that it uses. Therefor billing per device is not possible. Subscriptions are based on a 1 year flat fee allowing for a full year of worldwide unlimited and unrestricted use of our service.
Threat Intelligence Center
As part of our Secure Operations Center the ARMA Threat Intelligence Center is based on the collection of intelligence using open source intelligence, social media intelligence, human Intelligence, technical intelligence or intelligence from the deep and dark web. It's key mission is to research and analyse trends and technical developments in the areas of cybercrime,hacktivism and cyber espionage.This enables us to anticipate, respond to and remediate threats on all levels, whether user operational, legislative, distribution or otherwise.
Transparency Center
Our transparency center is open to all our customers. It provides on premises tour of our facilities and has staff available to enable customers to investigate our source code, updates,operations- and threat intelligence center.
Customer & after sales support
Our customer service center is available 24/7 by phone and email through our contact center.We have advanced support standby and an R&D department which handles confirmed bugs or feature requests from customers. Depending on the customers service contract, device guarantee issues are processed under 48 hours from notification.